Valencia
Address:

24463 Magic Mountain Parkway
Valencia, CA 91355

Hours:

10am to 9pm, Daily

Phone:

(661) 705-7265

Fax:

(661) 705-7262
Get Driving Directions
opens in a new window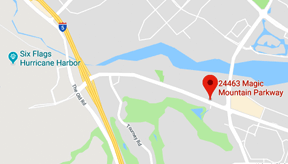 The Zankou Chicken in Valencia is located at 24463 Magic Mountain Parkway, just east of Six Flags Magic Mountain in the River Oaks Center.
opens in a new windowGet directions now!
Download Our Menu
opens in a new window
Download our menu in pdf format and keep it close by for the next time you have a hankering for Zankou Chicken. To view the menu, you'll need Adobe Acrobat, or you can download it opens in a new windowhere.