West Hollywood
Address:

7851 W. Sunset Blvd.
Los Angeles, CA 90046

Hours:

10am to 10pm, Daily

Phone:

(323) 882-6365

Fax:

(323) 882-8246
Get Driving Directions
opens in a new window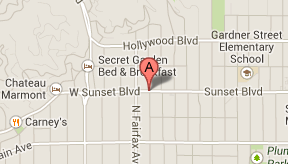 The Zankou Chicken in the heart of West Hollywood is located at 7851 W. Sunset Boulevard, east of Fairfax Avenue at the corner of Orange Grove Avenue.
opens in a new windowGet directions now!
Download Our Menu
opens in a new window
Download our menu in pdf format and keep it close by for the next time you have a hankering for Zankou Chicken. To view the menu, you'll need Adobe Acrobat, or you can download it opens in a new windowhere.